This report was commissioned and funded by AbbVie.
CF have previously published analysis on the indirect impacts of Covid-19 on patients with cancer and cardiovascular disease. CF has now analysed the impact on 6 other long-term disease areas: rheumatoid arthritis, asthma, psoriasis, diabetes, Parkinson's and inflammatory bowel diseases. The impact of Covid-19 in these areas has not yet been quantified, however over 15 million patients are estimated to live with these conditions in the UK, and over 600,000 new patients are diagnosed every year.
We worked with data from publicly-available sources and Hospital Episode Statistics data from NHS Digital to model the impact of the changes in separate segments of the healthcare system. The graphic below summarises the impact from the point of presentation in primary care, through referral to outpatient attendances and hospital admissions.
GP appointments dropped by 12% across all causes, in particular face to face appointments and those planned 2 or more days in advance, where we would typically expect to see long-term condition diagnosis and management. Referrals for the disease areas of interest dropped by 41%. Over the 10 months following the start of the pandemic, we saw a 25% drop in first outpatient attendances for new instances of these conditions.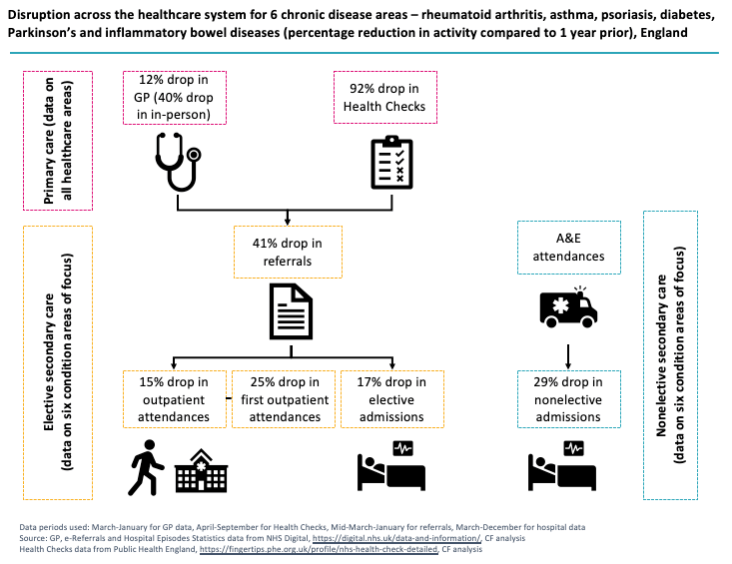 The changes outlined above summarise all 6 diseases, masking differences by disease. The following charts focus in on 3 points of the pathway: referrals, outpatient attendances and the modelled impact.
Referral: We can see a sharp drop in referrals across all relevant specialties from March, with the gradual recovery varying by disease area. Data from the end of January showed none of the specialties had recovered to pre-pandemic levels. Diagnostic endoscopy referrals saw a particular decline and slow recovery.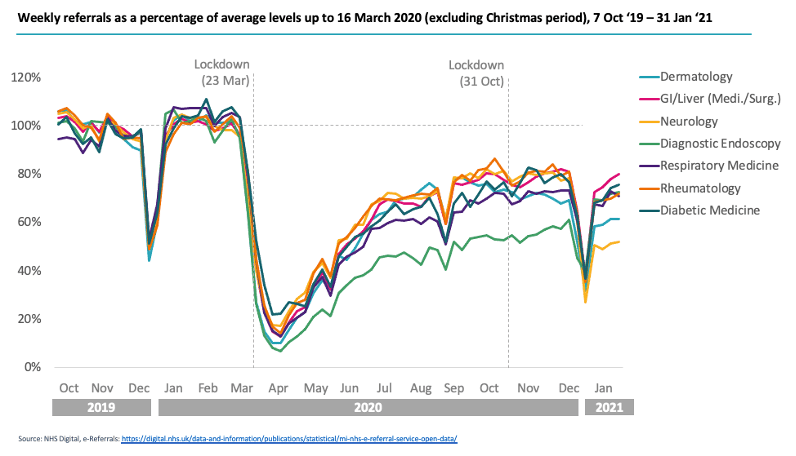 Outpatient attendances: First outpatient attendances dropped by 19-30% across relevant treatment specialties relative to 2019. This captures individuals entering the hospital system for the first time, a measure related to the start of the diagnosis process, and therefore enables us to see the potential impact on missed or late diagnoses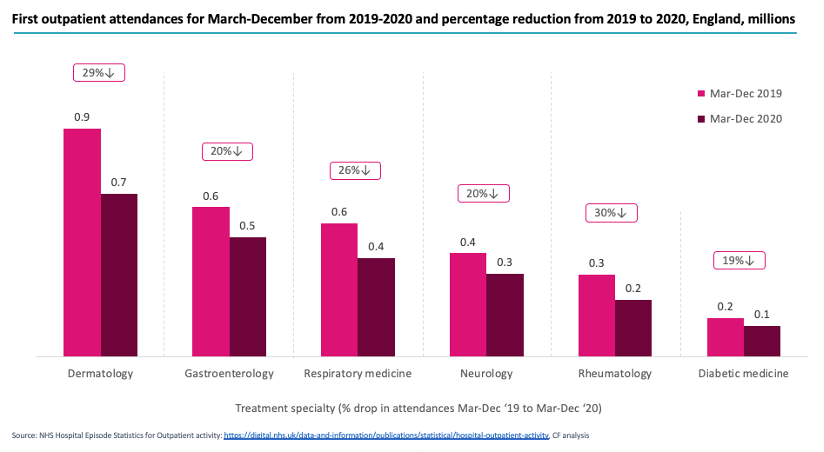 Modelling the impact: Covid-19 has not delayed the natural onset of new long-term conditions, potentially creating future challenges where patients will be diagnosed later, with more severe disease and thus experience worse outcomes.
Using the expected incidence between March and December 2020 and the reduction in new outpatient attendances to estimate the fall in diagnoses, we estimate 124,000 patients may have been missed and will be diagnosed late. Assuming that these patients who were 'missed' will present with more severe disease, we estimate that these patients will have approximately 4,400 additional years lived with disability, an increase of 47% overall. These patients will not only suffer more with their disease, but management of more advanced disease will be an additional cost for the healthcare system.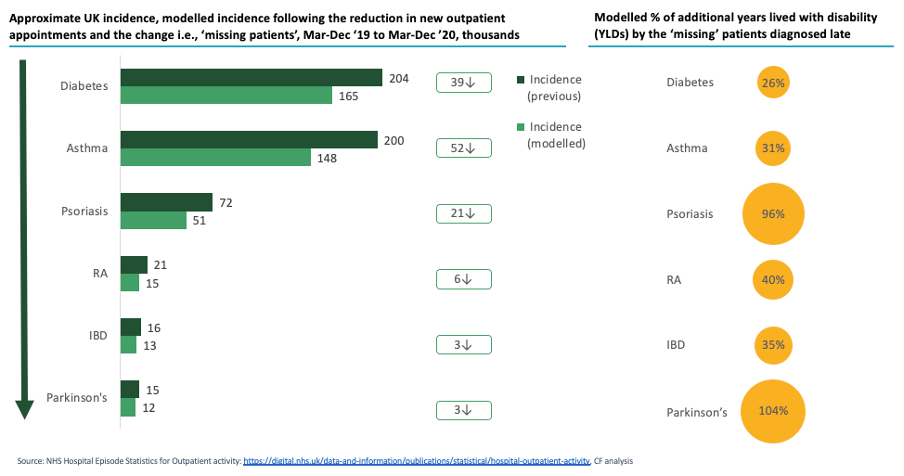 Demonstrating the impact incurred by the national response to Covid-19 highlights the need for innovation for patients with these 6 conditions. Recommendations outlined by the UK research community, including the 3 examples below, are now more important than ever:
Recovering elective care is a priority so that services are available for patients with long-term conditions, in both providing optimal care for existing patients and prioritising the diagnosis of new patients
The Covid-19 pandemic has strengthened the need for streamlining long-term condition diagnosis and in particular early diagnosis. Recommendations include the development of tools to assist clinicians in initiating diagnosis, and public education campaigns of the benefits of timely diagnosis and treatment
The sharp rise in telemedicine is one example of the healthcare system's ability to adapt rapidly. Embracing innovation including truly digital options will require identification of where digital options are most important and appropriate, and working alongside patients will ensure the move does not increase inequity in access to care
See the full report for methodology details and references: