A year on from the March 2021, CF has renewed the analysis of the impact of the Covid-19 pandemic on 6 long-term condition (LTC) areas. This report reassesses that impact and looks at the speed of the early health system recovery to November 2021. By this point many services had fully reopened, subject to staffing availability and ongoing Covid restrictions. It assesses the backlog of missing patient activity and reviews high-level recovery scenarios to ask what it would take for the service to create capacity to serve those patients who 'missed out' during the pandemic.
The Elective Recovery Plan is a welcome development for people living with LTCs, but it must be backed up by meaningful action to reduce backlogs of people waiting for specialist treatment, or even diagnosis, often for the very first time.
In the original report CF looked at rheumatoid arthritis, asthma, psoriasis, diabetes, Parkinson's and inflammatory bowel disease. In this refresh, CF substituted the less publicised degenerative eye conditions and migraine in place of diabetes and asthma. The analysis focuses on the continuing impact of pandemic service disruption on patients and the services that treat these highly prevalent conditions.
We see the impact of the pandemic throughout the continuum healthcare provision from primary care appointments to emergency inpatient admissions. Less routine activity in primary care suggests a large cohort of suboptimally-managed LTC patients in the community. Lower activity – and capacity – in secondary care suggests a backlog of unseen and possibly untreated cases awaiting their turn in the specialist queue. Both problems may create a tsunami of unmet need that a recovering health service will struggle to serve.
It is also important to remember that the impacts aren't equally felt, and are greater in groups such as older patients, individuals living in more deprived areas and those of ethnic minorities.

However, activity levels are slowly returning to or exceeding pre-Covid levels across the health system though this varies significantly and the backlog of patients needing care has continued to rise in specialties where activity has not returned to pre-Covid levels.
Primary Care Pandemic Impact
Routine Primary Care activity suffered particularly during the pandemic. Total appointments were reduced by 6% and face to face appointments reduced by 34%, pre-planned GP attendances were most affected. Health checks almost vanished, down by 92%. This profile is particularly important for LTC management. Fewer appointments will have meant poorer symptom and progression control for many, leading to higher disease severity. Telephone appointments may not be able to identify chronic conditions as accurately leading to possible underdiagnosis and under-referral to secondary care. Across the period reviewed, 1.8 million referrals were missing for these 6 conditions, compared to pre-covid averages. Collectively this problem may spell a significant unmet need across the population in those people living with an LTC.
Primary Care Recovery
Between March 2020 and September 2021 few months had more GP attendances than the pre-Covid average. However, since October 2021 GP activity has been consistently above it. However, referrals to secondary care relative to the pre-Covid period reduced by 26% during the first wave and remained 7% lower than pre-Covid in November 2021. Referrals to some specialties such as Diagnostic Endoscopy have seen a slower rate of recovery, whilst others such as to ophthalmology and neurology saw 4-week rolling averages of over 95% of pre-Covid between September and November 2021.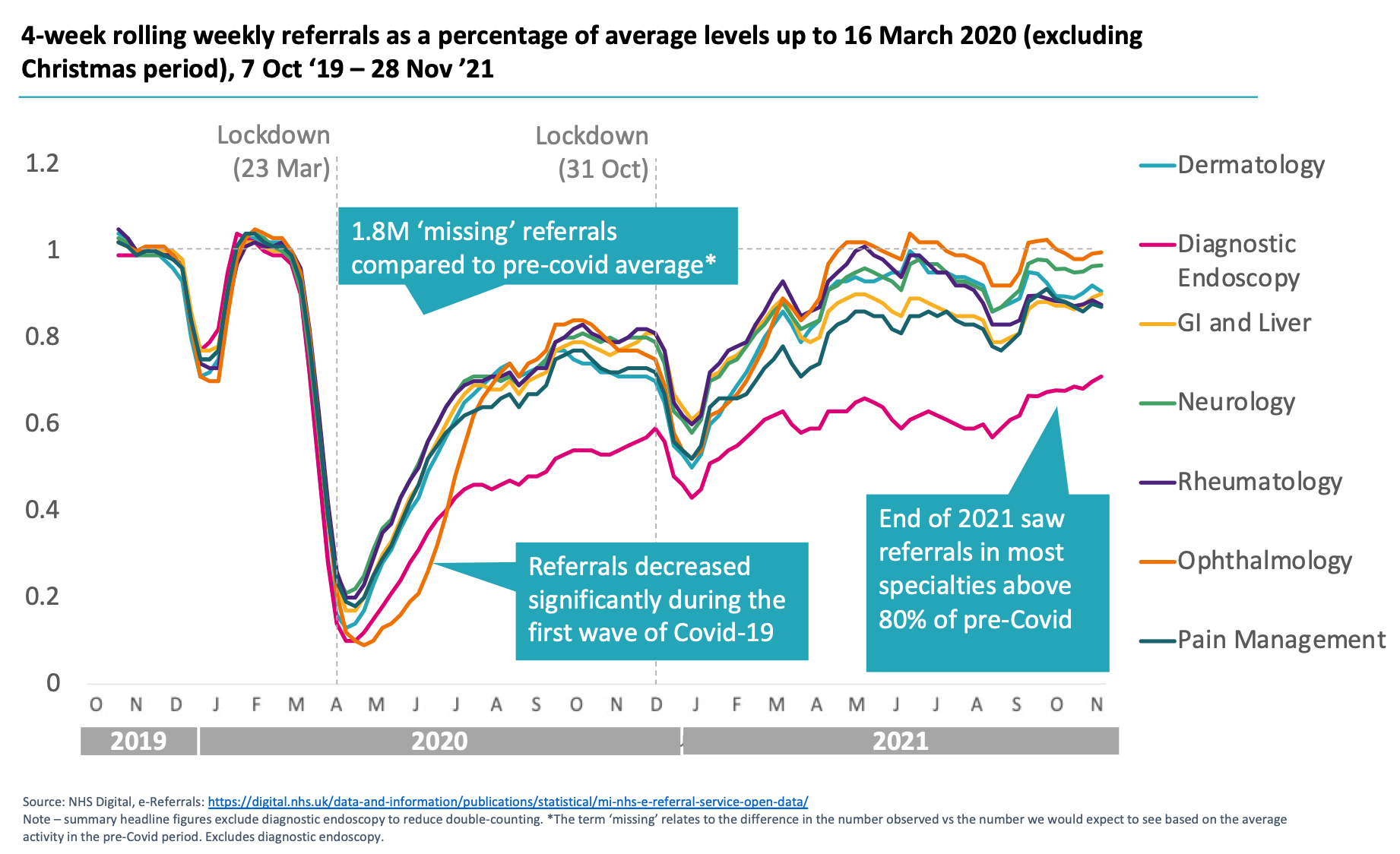 Secondary Care Pandemic Impact
The first wave of Covid-19 saw a significant drop in 1st outpatient appointments, though with large variation across specialties. In the year from March 2020 1st outpatient appointments were c. 25% lower than the year prior to Covid, suggesting significant missing appointments. The most dramatic decline was seen in April and May 2020 relative to the same months in 2019. For example, first outpatient attendances for rheumatology dropped by 62%. This drop in 1st appointments may suggest missed diagnoses and people not on the right specialist treatment program. The number missing will likely continue to grow in specialties where activity has not yet returned to pre-Covid.
The same pattern is seen for elective hospital admissions which dropped 17% overall by a range of 10-50% by disease group compared to 2019. For example, inflammatory bowel disease admissions dropped 10% on a background of 215,000 admissions in 2019 – suggesting that 20,000 people may not have had the hospital treatment they need. Non-elective admissions have fluctuated significantly throughout the pandemic, though for the conditions of interest this is likely impacted by relatively small numbers.
Secondary Care Recovery
Services have started to recover with high variability between specialities, but at the time of study there is still a growing waiting list into and in secondary care which indicates a lack of elective recovery. By October 2021 for 1st outpatient appointments some of our specialties had returned to close to or above pre-Covid levels whilst others remained significantly reduced.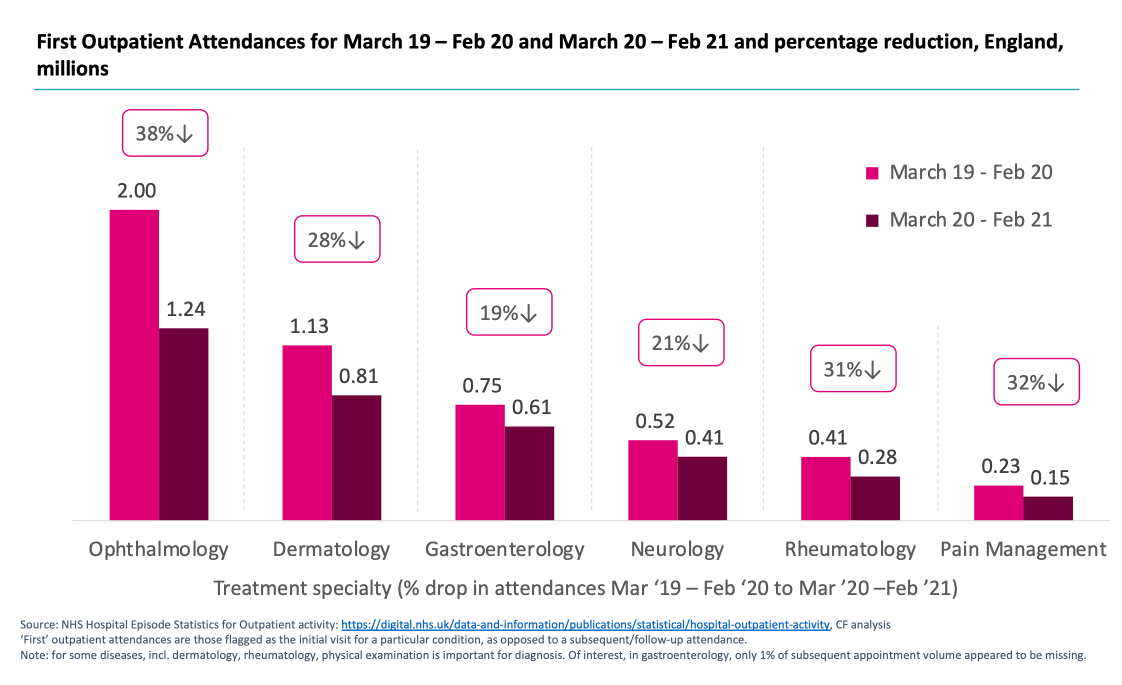 Managing the LTC Recovery Across the System
At a system level, there are two competing problems for the NHS emerging from COVID; a lack of capacity in hospital care and unserved demand in primary care. While both problems are important to solve, it is critical to create additional capacity in secondary care as a priority to enable both problems to be solved effectively.
Recovery rates for both the outpatient and elective inpatient backlog were modelled to assess how quickly the backlog would clear under different scenarios of 5%, 10%, 15% and 30% more capacity than the pre-Covid activity. Significant differences between specialities means each speciality needs to be assessed individually. For example, a 5% increase in outpatient neurology capacity clears the backlog in 15 months (and a 30% increase clears it in 2 months) whereas for dermatology a 5% increase has limited effect and even a 30% increase only clears the backlog in a year.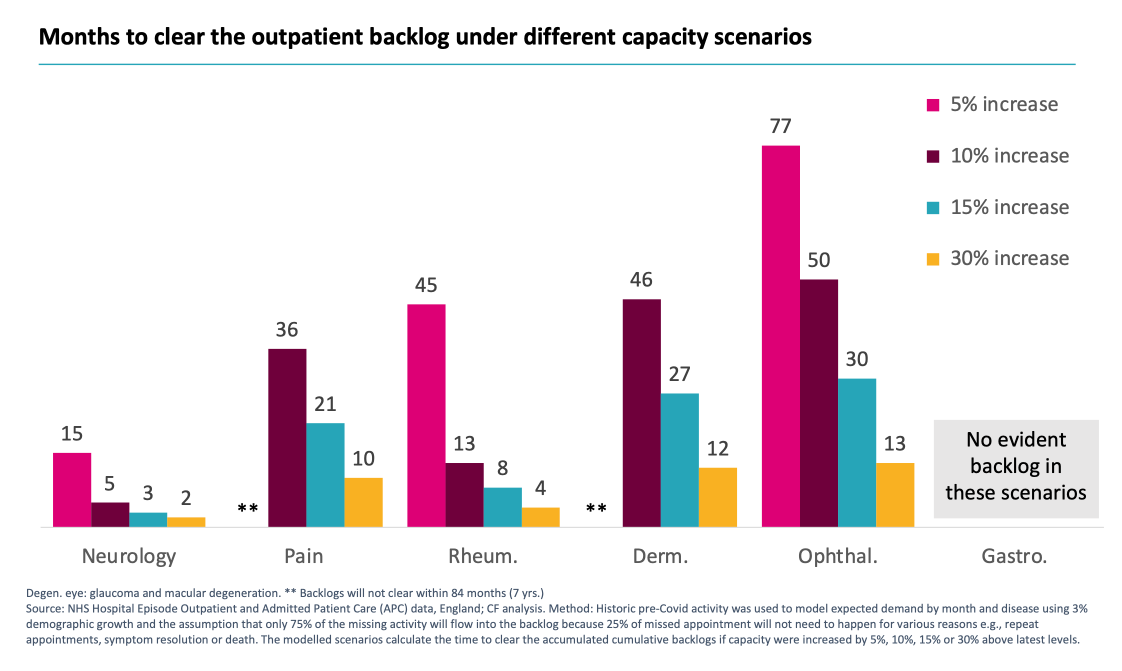 Sizing the Response Needed
Because of the size of the problem, ambitious aspirations and goals are needed both in terms of addressing the demand and the capacity. To get a sense of this, CF has considered the stretch scenario of what would happen if the 75% of CCGs with lowest 'performance' against these measures in each speciality were to improve that performance to the level of the 25th percentile – in other words if they were all to outperform the pre-Covid average. Does that high level of improvement begin to address the problem?
What if the lower 75% of CCGs were able to move to the upper 25th percentile in emergency admissions by better disease management in the community? Across our set of conditions, nonelective admissions could be reduced from 93,000 admissions annually by 29% overall. For example, in migraine, 10,000 fewer admissions would occur.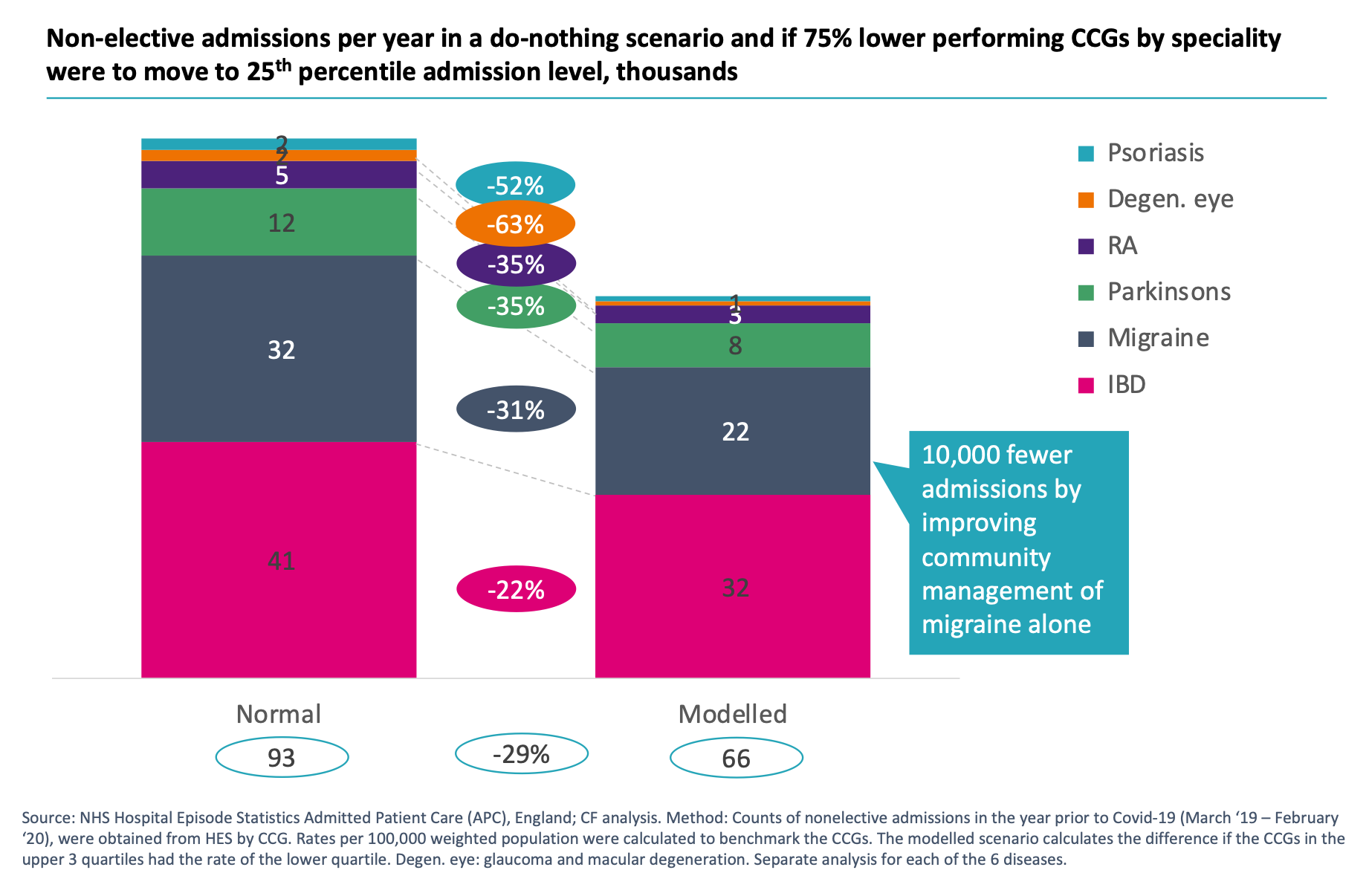 What if the same shift was to occur for length of stay (LOS) once a patient had been admitted? Across our set of conditions, LOS reduction could result in 84,000 fewer bed days per year, a drop of 24% overall. Improving IBD and Parkinson's LOS alone frees 63,000 bed days.
Taken together, reducing admissions and length of stay would free over 120,000 bed days annually in these conditions. This is capacity which could be used to begin to free up clinical time and space to bring more patients through the system.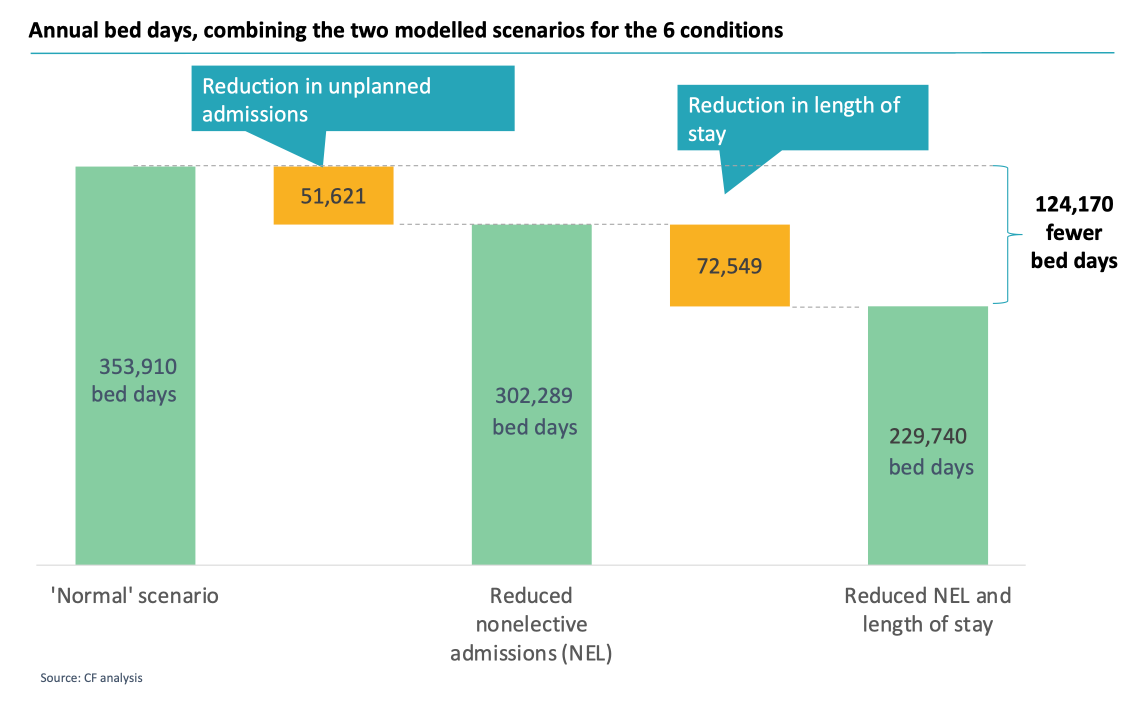 For these improvements to be conceivable, the system must think differently about what it is doing. ICSs must learn from each other and replicate best practices within their system at pathway level to begin to see the improvements discussed above. More specifically, several priority levers for step-change performance in patient pathways using all methods available should be considered. More of the same will not solve the problem, hopefully we will see that necessity is the mother of invention, as we did in the pandemic. Important avenues of innovation must include:
Using technology to redefine the traditional patient pathway. The opportunities here are endless but could include:
Direct patient to speciality referral via technology for some conditions
Specialist triage using advice and guidance to improve flow
Remote monitoring and treatment adjustment of LTCs
Involving patients in treatment and follow-up decisions including through patient-initiated follow-up (PIFU) and patient education for self-management.
Collaborating with industry – as demonstrated to high effect in the pandemic – to redesign patient pathways and develop new therapeutics or technologies that solve bottlenecks and other pressing problems.
This report was commissioned and funded by AbbVie. To view the full report click here.