Our Insights & Collaboration Engine (ICE)
Supporting ICSs in accessing and using data to support the development and delivery of their strategy.
CF is excited to announce the launch of the Insights & Collaboration Engine (ICE), which aims to help integrated care systems (ICSs) at the sub-regional and local place level to work together through integrated care partnerships (ICPs) to improve population health outcomes, reduce inequalities and support collaboration. Our bespoke platform provides a selection of indicators for population context, service integration and health outcomes to inform strategy, prioritise resources and measure progress at ICS, place and neighbourhood level.
The platform supports ICSs and ICPs with access to the most recent data to gain insight into their position relative to peers of similar ranking on the Index of Multiple Deprivation (IMD), as well as the exploration of variation locally within the ICS or ICP. In doing so, it ought to support ICSs to collaborate to identify their top priorities, develop their five-year strategies and delivery plans, and measure actual progress towards their goals in delivery.
The formal establishment of ICSs and ICPs provides a unique opportunity for the NHS, local government and wider stakeholders to come together to better meet the needs. One of the first asks of ICSs will be to develop their strategies as an ICS and constituent places and providers. This will require identifying priorities, developing plans for improvement and then measuring progress to support mutual accountability for delivery.
The four core purposes of ICSs are to:
Improve outcomes for populations.
Tackle inequalities in outcomes, experience and access.
Enhance productivity and values for money.
Help the NHS support broader social and economic development.
However, both ICSs and ICPs face several challenges.
Firstly, they are only formally coming together now and establishing themselves. Secondly, they are coming together in new ways and need to take time to develop how they work together. Thirdly, most lack robust shared data and analysis to support them in understanding current position and priorities. And fourth, a constant cascade about Covid, vaccination, recovery and so forth may provide little guide to how they get back to the fundamental purpose of ICSs to improve population health, health inequality, productivity and economic development.
ICE allows leaders to better understand their baseline level of integration across three chasms: physical and mental health, community-based and hospital-based care, and health and social care. We have worked with IPPR to select 40 metrics to measure the level of integration.
The development of ICE was founded on supporting newly formed ICSs with prioritisation and planning
As ICSs develop their five-year strategies for genuine integration, wrapping seamless services and support around local people, the starting point must be an honest assessment of the current reality, followed by ongoing monitoring and improvement of ICS development.
ICE is designed to support the development of ICSs over time by:
Providing a holistic view of ICS level of integration in the context of statistical and geographical peers.
Identifying improvement opportunities.
Identifying priorities for the ICS Executive and aiding effective resource allocation.
Identifying priority areas for improvement in population health initiatives.
Gauging implementation progress and impact against priority areas over time.
Embedding multidisciplinary team (MDT) working and the leadership required to accelerate change.
Through this support, the ICS can evidence it is meeting its statutory and constitutional responsibilities, support improvement through targeted interventions and facilitate transparent oversight of system risks and accountability to the public.
Context, integration and outcomes
A crucial insight from the ICE platform has been illustrating the link between an ICS' average deprivation (IMD) score and the platform's integration score index, which can be used to identify health inequalities — as illustrated in this interactive map that combines the IMD score and CF's calculated integration score for each ICS across the country.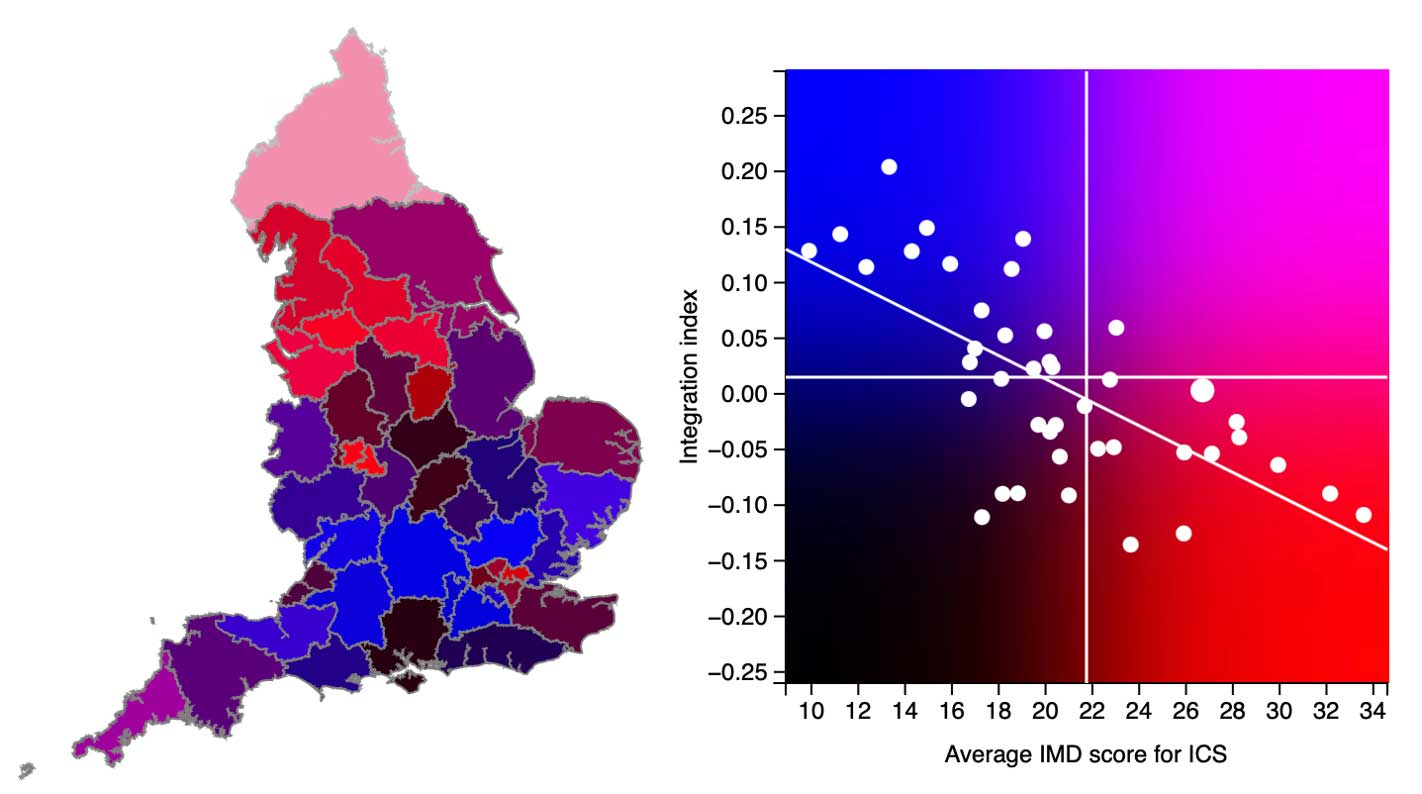 Conducted by CF, the research has shown that systems with higher levels of deprivation generally have less integrated health services. That said, there are examples of higher and lower levels of service integration at every level of deprivation. The findings provide critical insight for policymakers and ICS leaders looking to set strategy.
Equally, the index shows that ICSs with low levels of deprivation perform well across integration measures. For example, Hertfordshire and West Essex perform well for indicators across all three chasms. In particular, there is a high level of integration between community-based and hospital-based care — showing that, on average, residents can expect shorter stays in hospital and are less likely to be admitted to hospital in the first place.
The analysis does not suggest that deprivation is specifically responsible for poorer integration, and there is a complex relationship between healthcare outcomes and deprivation, beyond the integration of services. It is well understood that higher levels of deprivation often result in poorer outcomes. However, the relationship between deprivation and integration should not be overlooked and can help ICS leads to focus on those areas that will have the biggest impact on resident health.
It is critical that ICSs and places within them are armed with data to help them understand their starting point, set aspirations and develop their strategies. This analysis implies IMD critically influences the complexity of integrating services, but equally, it shows that there is such variation amongst integration between ICSs with similar deprivation levels that context need not be destiny. Ultimately, this suggests that each ICS and place across England should seek to identify where and how it can integrate better for its population, incorporating context when thinking about what they want to achieve.
Further detail on this topic and be found in our Insights section.
ICE is a simple-to-use but sophisticated web-based analytics platform that provides:
Understanding

ICSs' measures of integration and outcomes over time, benchmarked against geographical and statistical peers

Broken down by Chasm, ICS, Place, Neighbourhood, Core20 and protected characteristics (at the LSOA/local authority level)

Prioritisation

Quantify improvement opportunities based on narrowing gaps within the ICS and raising performance to peer benchmarks for each metric
Identify priorities for the ICS based on the size of the opportunity
Set achievable goals in line with timelines set out and historical peer performance

Improvement

Causal discovery algorithms for goal metrics to identify where in the causal chain to target to have maximum impact over a tactical time horizon
Track integration objectives against priority areas over time
Evaluate the impact of interventions on integration and outcomes measures, using synthetic controls and observational data
Key features of the platform are listed below:
Easy-to-use interface that allows drill-down and comparison across ICSs, places and neighbourhoods
Key metrics and timely data sources required to manage population outcomes
Automated supporting materials for the ICB population outcome committee
Quantification of warranted and unwarranted variation within the CORE20PLUS5 objectives
Tracking of integration objectives against priority areas
Evaluation methodology of targeted interventions
The platform is based on a secure cloud platform and can be accessed by multiple users from multiple locations. Aggregated data that supports understanding of integration can be downloaded as a .CSV file.
Consultancy offer
ICE can be supplemented with a broader CF consultancy offer to help set aspirations, measure progress and support improvement.
CF has a track record of offering high-quality consultancy services to healthcare organisations. ICE can support ICSs and ICPs to understand the population's needs and compare current outcomes to other systems. We can combine a subscription to ICE with a tailored consulting offer that helps you meet the four core purposes of ICSs:
Improving outcomes for populations
Enhancing productivity and value for money
Tackling inequalities in outcomes, experience and access
Helping the NHS support broader social and economic development
Setting strategic goals
We can help you develop a strategy and prioritise your strategic areas across the three chasms: physical and mental health, community and hospital care, and health and social care. The consulting offer would include support such as:
Identifying population health needs.
Identifying and addressing any current health inequalities.
Identifying strategic priorities aligned to the population's health needs.
Setting aspirations for the ICS' future journey.
Developing a strategy to reach aspirations.
Establishing integration goals.
Measuring progress
As a regularly updated platform, ICE is an effective way to track progress on an agreed set of indicators. The consulting offer would include support such as:
Evidence the ICS is meeting its statutory and constitutional responsibilities.
Setting key performance indicators to measure progress over time.
Comparing an ICS to statistical and geographical peers to explore the relative rate of progress.
Supporting improvement
We can assist with implementation to support sustained improvement across the strategic priorities. The consulting offer would include support such as:
Developing an improvement plan with a series of targeted interventions.
Outlining a detailed delivery plan for agreed interventions.
Supporting the delivery of selected interventions.
Tracking the progress of the implementations.
This platform is intended to help you develop and deliver benefits to your organisation. CF works together with clients to understand their specific requirements to help tailor the best approach. Please contact us at 

[email protected]

to discuss your needs further.