The COVID-19 pandemic has had a massive impact on the world, causing disruption and dislocation for those who have been infected and transforming everyday life. The implementation of strict restrictions on movement and travel has made the UK go into a standstill, closing down schools and universities and forcing most people to work from home. In the UK, the economy has experienced a significant setback, driving the government into emergency mode. A rapid increase in the number of COVID cases has made the UK the fourth most infected country in the world, although the UK is now thought to have reached the peak of new daily cases.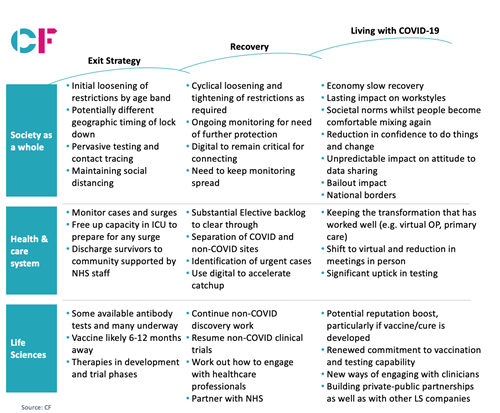 Impact of the crisis on health and care systems and life sciences
The massive demand arising from the crisis has put the health and care system under pressure, starting with admissions to hospitals and critical care and shifting to hospital discharge and community and social care services. Non-COVID activity has more than halved as people have stayed away from healthcare facilities to avoid infection, most referrals to healthcare services have been stopped, and elective procedures have been cancelled. This decreased activity has made it possible to manage the crisis within existing health services capacity. The COVID pandemic is acting as a catalyst for transformation in the healthcare system, which has demonstrated an ability to make change swiftly and take system-based decisions. This crisis has highlighted the need to improve integration across the system, which has resulted in unprecedented levels of planning, information sharing and co-ordination. There has been a dramatic acceleration in the use of digital technologies, for example the embracing of virtual appointments within primary care.
The life sciences industry has been profoundly affected by the COVID pandemic in two fundamentally different ways; one involves a race to find diagnostic tests, vaccines and therapies for COVID-19, and the other is usual business coming to a halt. Parts of the life sciences industry are busier than ever before as they work rapidly on three critical areas. First and crucially, hopes of a rapid return to normality depend on the discovery of a safe and effective vaccine that can be rapidly developed, approved, manufactured and distributed. Second, there is a need for better therapies to help to reduce the shocking 50% mortality rate for COVID patients who need critical care.[1] And third, it is crucial to develop better tests to permit rapid and comprehensive testing, as well as antibody tests that could potentially indicate immunity against the virus. It is also worth mentioning that, during this critical period of time, the life sciences industry has a crucial duty of continuing seamlessly to supply existing products despite the disruptions in workforce and the supply chain. Other parts of the life sciences industry, however, have been brought to a significant slowdown, or even standstill, unable to continue business as usual activities including research into new medicine and clinical trials.
Towards an exit strategy
For society as a whole, the only long-term exit strategy from the lockdowns put in place to address the spread of COVID is an effective vaccine or herd immunity. To date, the collapse of health systems around the world has been avoided or minimised by lockdown. But this lockdown has come at the cost of suspending normal health and care for the population, particularly elective procedures, and the deepest recession since the great depression with the corresponding further impact on health. The most obvious exit strategy is to enable the easing of the lockdowns in a risk-based way (e.g., allowing younger people and businesses that can maintain social distance to resume activity whilst shielding the old and vulnerable). There needs to be comprehensive testing (of both disease and immunity), and contact tracing, to monitor and plan for the potential of multiple further peaks of the disease.
Healthcare systems will have to take measures in preparation for other possible surges of the virus starting with continued monitoring to track any rise in cases. The health and care system will need to manage the long-term morbidity associated with patients recovering from COVID-19. Hospitals will need to create permanently higher levels of critical care capacity to be prepared for another peak in infections. Care homes, in particular, are vulnerable to becoming hotpots for the spread of the virus and will require stringent measures of screening and social distancing. The Life Sciences industry will need to be able to rapidly scale up the production of vaccines, therapies and test equipment and compounds, as soon as they have been demonstrated as effective. There will be challenging issues in securing the supply chain and distributing products.
Considering recovery
Reviving the economy whilst maintaining social distancing will require most businesses to retain some form of the 'work-from-home' model and reduce the number of people in the workplace. Digital platforms will remain crucial for connecting and working remotely. Businesses that cannot operate digitally will face a bigger challenge and will need to provide protective equipment, maintain social distance, and consider staggering starting times for work.
Healthcare systems will have to deal with the backlog of patients that have been staying away due to concerns about COVID-19. This will require prioritising cases that need urgent care (particularly cancer), using digital to prioritise and accelerate access, and separating COVID-19 and non-COVID-19 sites (potentially by making use of the private sector). This might mean also a much more severe death toll indirectly related to COVID-19.
Life sciences companies need to get back to their business as usual activities which involve continuing their non-COVID-19 discovery work, resuming their clinical trials for therapeutics, and defining out how to engage with health care professionals as well as how to build partnerships with the NHS. The COVID pandemic has also created issues or challenges around global supply chains that will need to be addressed.
Living with COVID-19
The world is likely to be forever changed post-COVID-19, starting with how people conduct business as there is a large shift to remote work. People will need to learn to become comfortable interacting again and going to public places. Greater use of digital technology to control the spread of the virus could start raising concerns around user privacy.
The health and care system will need to retain the novel practices that it adopted during the COVID pandemic including retaining 'digital by default', i.e. digital interactions unless there is a specific need for face-to-face. Also enhancing the health and care system as the core unit of planning and responses and maintaining the ability to flex capacity as needed. This will allow the health and care system to transform further in order to improve readiness for future health crises.
The life sciences industry will have renewed trust and commitment from the public as the importance of vaccination and testing have been proven during the crisis. It also seems likely that there will be an enhanced and permanent impact on digital approaches to supporting and enhancing the effectiveness of targeting, diagnosing and treating individuals. This may be facilitated by a step change in attitudes to digital and data sharing.
Last but not least, from a government perspective, there will be a need to take the learning from this crisis and using this to refine, improve and reinforce Business Continuity Plans. This will ensure that the next crisis is managed significantly better in terms of timely actions, clarity and consistency of measures. This goes beyond the country, with the World Health Organisation (WHO) as a key player in this.
Success in the post-COVID world
The COVID-19 pandemic has taught the world many lessons that are likely to leave lasting changes in people's lives. For the health and care system, success involves mainstreaming virtual consultations, building meaningful partnerships, maintaining a larger critical care capacity and developing clearer pathways for elective and urgent patients. Expectations for the health and care system have been raised, which means that there will need to be more co-ordination within it, driving a common pathway and a step-change in data sharing which will lead to a significant change in analytical capabilities.
For life sciences companies, it is the prime time to put their resources to use, to bring about positive change which can be leveraged to improve their reputations. Going forward, success for the life science industry will rely on having strong collaborations and partnerships within the industry as well as with governments and providers. This change starts with working out the nature and purpose of these new partnerships.
---