Graduate Opportunities
Embark on a rewarding career with our Analyst Programme
There is a vast amount of knowledge and experience to draw on at CF. We are embracing technology-led approaches to healthcare, we are linking groundbreaking life sciences organisations to health systems, and our data innovation function is leading the way in delivering data-led insights for effective population health management.
The CF Analyst Programme shares our passion for improving healthcare outcomes with talented and enthusiastic graduates — enabling them to learn on the job and work alongside our team on real-life projects to make fast progress towards the next stage of their careers.
What to expect
Analysts begin their training at CF with an intensive induction programme, which equips them with the fundamental skills and tools required for a management consultant. They will also be paired up with a 'buddy' who can assist with all the practical aspects of joining the business and a development sponsor to help them move forward with their career ambitions.
The CF Analyst Programme creates a supportive and motivating environment for graduates to grow and thrive, and there are endless in-house and external training opportunities available for those who take the initiative.
With the CF Analyst Programme, graduates systematically gain skills in problem-solving, communication, managing delivery and teamwork whilst increasing their knowledge and understanding of healthcare — working through structured three-month rotations to gain exposure to all areas of the company, including health systems and life sciences.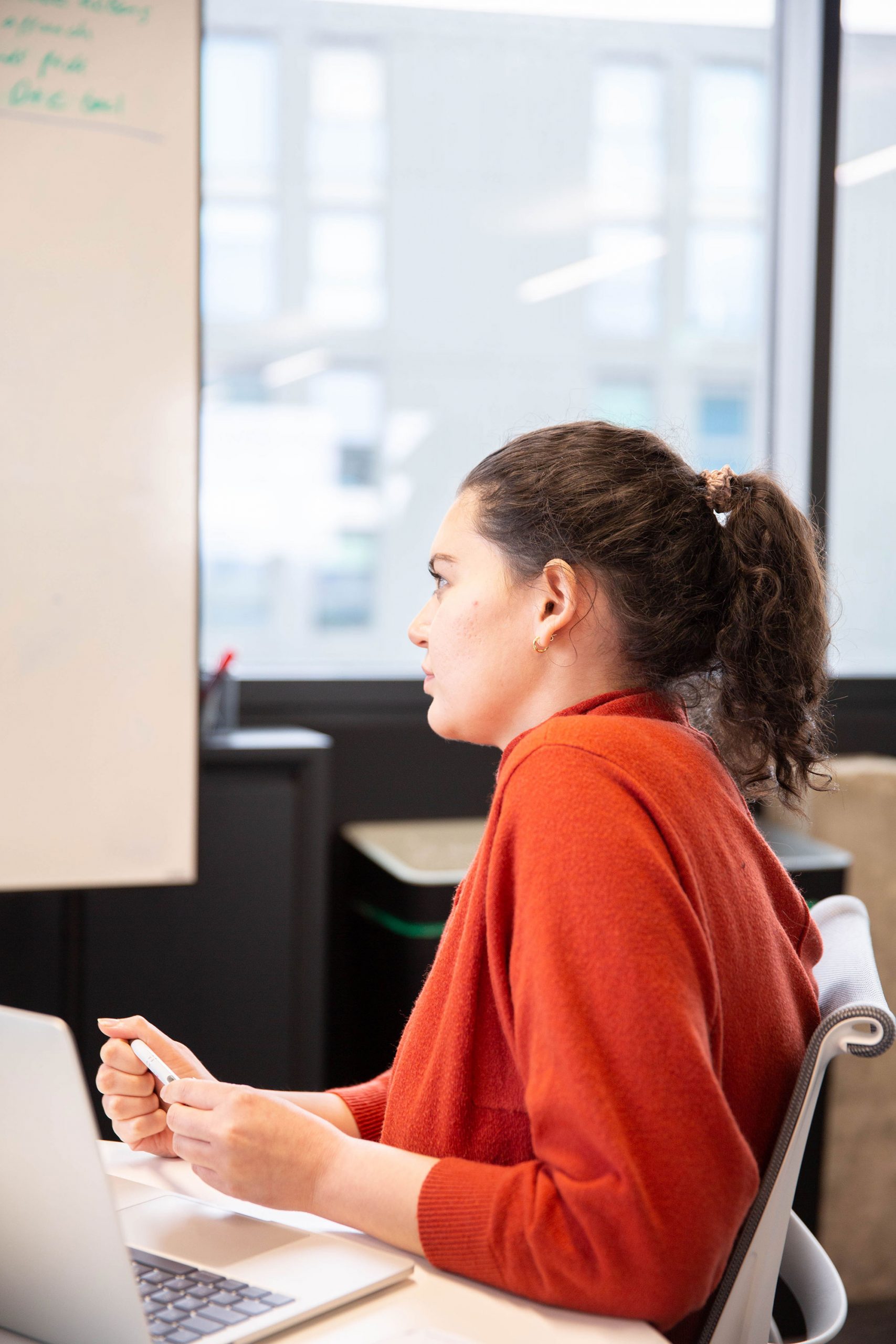 What our past graduates say
I joined CF in September 2019 immediately after studying maths at the University of Portsmouth. During my degree, I undertook a work placement year as a biostatistician at a global pharmaceutical company, though wanted to try something new when applying for grad jobs.

I joined CF with no consulting experience, and minimal understanding of what consultants actually do, just an interest in improving healthcare that was inspired by my mum working for the NHS throughout my childhood. For the first 4 months of my journey at CF, I worked with the data innovation team to build an internal analysis tool. This was a great experience to improve my coding skills and begin getting to grips with the world of consulting before entering project work.

Now working as a Consultant, the CF analyst programme really helped me to develop core consulting skills, gain NHS knowledge and learn how to establish and maintain good working relationships with clients and colleagues.

My favourite thing about working at CF has been the ability to get involved in anything that I am passionate about and find likeminded people that are willing to help. An example of this was establishing an internship in the summer of 2021. When it comes to projects at CF, there is a nice combination of variation so that you don't get bored, but enough similarity that there is always someone in the company with experience that you can turn to for help.

The typical life of an analyst at CF includes gathering data, data analysis (mostly using Excel), attending meetings with clients, summarising information (either from research or attending interviews and workshops) and lots of collaborative working with your project team. There's lots of variation based on what type of project you are on, but the basis of working together with internal and client teams and producing slide packs runs throughout each project.
I joined CF as an analyst in June 2021 as I was drawn in by the tangible impact their work has on patient outcomes.

Before I joined CF I'd completed a Master of Pharmacy degree and one year of training to become a qualified pharmacist. I chose to work in community pharmacy because I wanted to have a more direct impact on patients, and because I was interested in the business angle of delivering healthcare. At this stage I decided I wanted to pursue a career where the work I do can can have a greater impact on groups of patients or larger populations.

Since discovering and joining CF, I have been working on projects such as supporting the Chief Data Analytics Office to produce rapid insights on elective recovery across England, helping leadership to understand where the bottlenecks are in the delivery of patient care. More recently, I have supported NHSE to develop a model which projects workforce gaps within the NHS for the next 5 years.

I have learnt a huge amount from the people here at CF, in part from my colleagues' deep passion and expertise in healthcare, and in part from the huge variety of backgrounds and experiences that they've come from. The work I have been involved in has been meaningful and hugely rewarding, and I am excited about the opportunities I will be a part of.
After graduation, I worked as a communication officer in the NHS for a set of clinical commissioning groups and acute trusts. Through this I got a lot of exposure to a whole variety of challenges and exciting transformation initiatives across the NHS. I applied to CF as an analyst, following a recommendation from a colleague at the time. Throughout the interview process, I enjoyed meeting passionate, knowledgeable people, who were really committed to transforming healthcare.

On joining CF, I quickly became involved in some major projects ranging from redesigning governance arrangements in North West London, reconfiguring surgical services across a large acute trust and identifying the levels of provision required for a new hospital build. Across these projects I got involved in the full suite of consulting skills – building complex demand and capacity models, problem solving how to implement best practice, and supporting engagement.

I'm now a manager, and really enjoy getting involved in the full spectrum of things that CF has to offer. I love working with people who have just joined CF and are going through the same sort of journey that I've been on. I also now help to lead our ED&I agenda, which showcases some of the drive and determination across CF. Starting as an analyst in CF has set me up really well – I've had a great blend of experiences and it's been really enjoyable building on my healthcare knowledge and learning how to deploy the consulting toolkit.
I completed a year working as a junior doctor before discovering a video of Hannah talking about how care in London might be delivered different in the future for the King's Fund. From there I found CF and realised their culture and approach would suit me, very different from the big four. I joined in 2017 as an analyst and was promoted to manager within 4 years.

CF genuinely makes an impact, because of the people in the business, particularly the leaders, have worked and led healthcare organisations and know what it takes. There's a very human approach to our consultancy – we connect with people and recognise the difference positive change can make to them, whether they're patients, clinicians, leaders or other staff.

I've recently been working with a hospital to develop its clinical strategy for the future. It's exciting because I can see that what we're doing with them will be truly transformational. My role has been leading the programme of work and clinical engagement to develop the strategy, drawing on the lesson that have been learnt as a result of managing the pandemic.

The experience I had as a junior doctor means I'll always think about the healthcare professionals who are trying to make change happen with us – people with day jobs, often just trying to keep their heads above water with the health and care they are relied upon to provide.

There is real expert knowledge here and it's humbling to be amongst people who've made such important change happen. Everyone here is very bright but grounded, and completely willing to freely share what they know to help you grow and develop. They want you to excel but also find meaning in your work. If health and care are your passion, then CF is definitely the place for you.
When I joined CF as an analyst I already had a varied academic and work background. I studied geography as an undergraduate and also did a masters in international development and emerging economies. My previous jobs included healthcare marketing and technology consulting. There are a number of reasons I joined CF, ranging from the inspirational leadership to the values that CF upholds. My main driver though, was to ensure I could pursue my passion for healthcare within a fast paced and stimulating work environment, and CF seemed like the perfect fit.

Since starting at CF, I haven't looked back, with my CF journey seeing me progress from analyst to manager, complete a number of extremely interesting projects supporting NHS clients across the country and contribute towards the corporate growth of the company. Particular projects that stand out for me include supporting a health system with addressing patient flow issues over the challenging winter months, supporting London with their Covid-19 planning during the initial months of the pandemic and supporting the national breast screening programme with restoring their service in the wake of Covid-19. Across each of these projects I have engaged with clients ranging from front line staff to board level executives, developed data analytics skills, planned and supported the running of workshops and created reports that have helped inform critical decision making processes.

One of CFs greatest strengths is it's people. The culture is one of collaboration and support, where asking for help is encouraged and challenges are there to be solved collectively. When you join CF, you won't have to wait long before you are on your first project and this is exactly what I wanted at the start of my healthcare consulting career. I had the opportunity to learn on the job, underpinned by a bespoke training offer and an extremely supportive set of colleagues who's primary aim has always been to help me thrive.