UK Covid cases are skyrocketing to never before seen levels (Figure 1) with a 7-day average of 182,000 daily new cases. Before Christmas we took a look at the data to see what's going on and today we update that. Three key things to note:
While cases have soared, admissions and deaths have not increased in same way

London appears to have turned the corner, with cases and admissions declining

The virus appears to continue to weaken
We show updated data for each area in the three charts below. Overall, the current trends represent a challenge for the NHS in the near term, especially with the impact of staff shortages. But the chasm between cases and both admissions and deaths provides early evidence that Omicron's impact is materially different from earlier versions of Covid.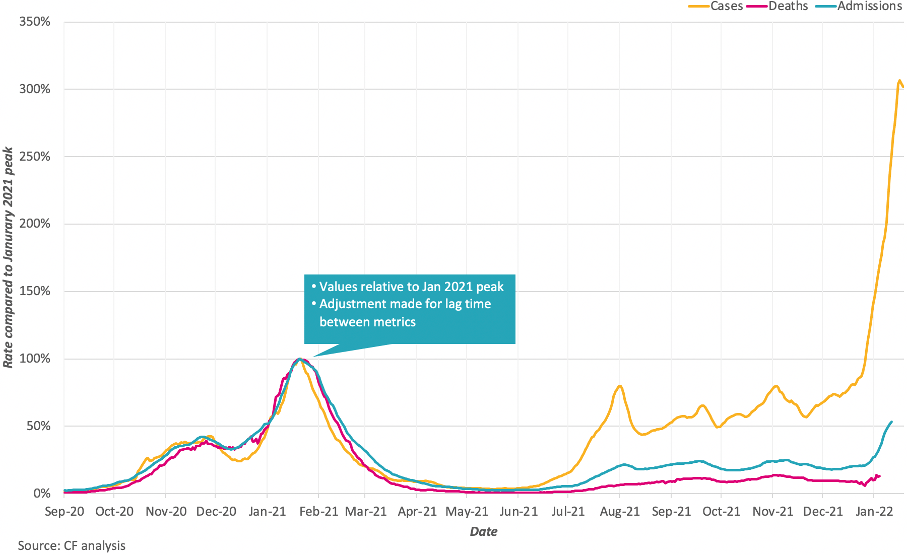 Compared to the January 2021 peak this translates into 302% of Covid cases, 53% of admissions and 13% of deaths (see Figure 1).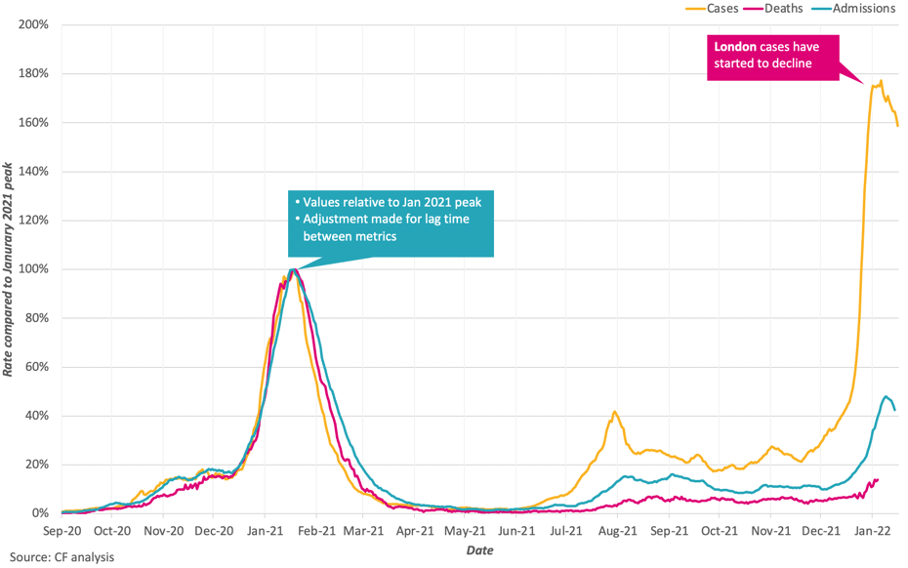 A closer look at London suggests that it appears to have turned the corner, with cases and admissions starting to turn downwards (see Figure 2).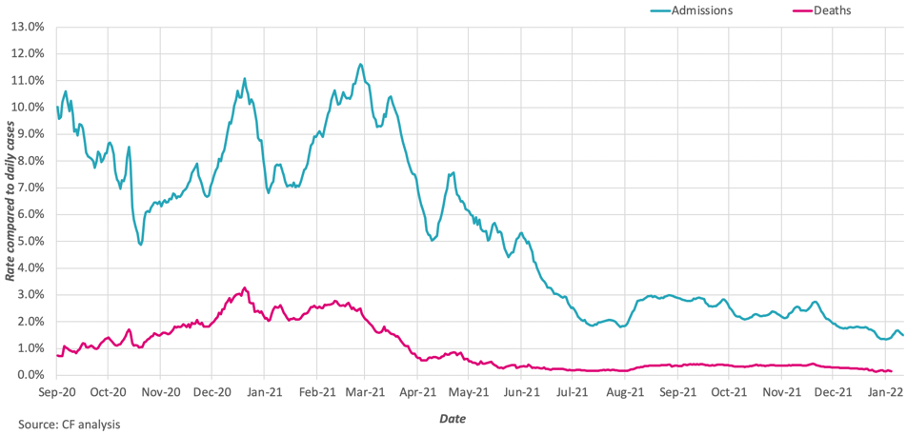 The impact of the virus has sustained a clear weakening. At peak (during a period of widespread testing) 12% of cases resulted in admission. This has fallen to just 1.7%, or just over a tenth, of the prior impact. The mortality rate has fallen from over 3% to less than 0.2%, or less than a tenth of the prior impact (see figure 3).
There are several factors which may have resulted in this slowing down. A crucial one is the UK's rapid vaccination and booster roll-out programme. Another is the fact that the Omicron variant appears to be less severe than previous variants, because it is more likely to infect the throat than the lungs and is therefore less deadly. More data and time will be needed to understand long-term effects.
Although figure 3 shows early signs in declining post-peak cases and hospitalisations, the NHS now faces the challenge of staff shortages given the high staff absence rate relating to Covid. Across acute, mental health and community trusts, HSJ today saw a new high of 120,000 staff absences, 20% more than peak absences in January 2021 and 70% more than NHS staff absences in late November, before Omicron caused cases to surge. The latest guidelines may reduce the length of time spent in isolation, and it is hoped that the impact of staff shortages could be reduced.
The recently published operational planning guidance for 2022/23 is based on Covid levels falling to a lower level. Omicron will continue to occupy the thoughts and actions of leaders in the short term, but London's situation may give early hope that tide may soon allow for a shift in priorities. It could mean healthcare leaders can start looking forward towards the end of Omicron's peak and begin to strategise on how to plan and prioritise resources to meet the challenge of restoring services and reduce Covid backlogs.
Sources: