CF partnered with Ark, the multi-academy trust of schools, to address health inequalities amongst children in the UK. We focussed on the development of pilot ideas for the provision of healthcare services in schools. Throughout the project, we engaged with a wide range of stakeholders to distil both the health needs of Ark students and their families, and the barriers to addressing these needs. Our work culminated in a high-level pilot design of a health hub to be embedded in schools.
Context
Ark Schools run 39 schools across the UK and recognised, via stories emerging from their schools and public sector trends picked up through recent headlines, that many students and families from less privileged backgrounds have difficulty accessing health and other public services at the right time and in the right way, worsened further by the pandemic and the cost-of-living crisis. CF supported Ark to explore avenues of community support through the provision of healthcare services in schools.
Approach
Our approach used both quantitative and qualitative techniques to develop a clear case for change, craft a case study repository, and set early designs and costs for the pilot to drive early validation and approval with key stakeholders.
Case for Change
We conducted interviews with Ark School Principals and conducted analysis of socioeconomic and health data in communities with Arks Schools, to develop a compelling case for change. This case for change highlighted which areas of healthcare provision should be targeted to improve the wellbeing of Ark students and their families as much as possible. In addition, we interviewed NHS commissioners and providers across North West London to understand the gap in the provision of health services to local students and families.
Case Study Repository
Our Corporate Social Responsibility (CSR) pro bono team reviewed existing literature, previous project impacts and newer research on student health to create a small database of case studies to guide Ark's ability to identify health needs, design evidence-based interventions, and embed a cohesive evaluation strategy to ensure whether the project was in fact achieving its core benefits. Over the project, the team would focus cases on the top health needs identified, such as dental health and nutrition.
Pilot Concept Creation: Early Design & Costing
Before designing the pilot, we engaged with a range of stakeholders to set design principles to ensure that the pilot was both sustainable and scalable. In addition to Principals and NHS commission and provisioners, we interviewed an array of policy stakeholders and third-sector experts who had experience developing and scaling pilots. We took the insight from interviews and co-designed a costed pilot with the Ark team.
Outcomes
We worked with Ark to develop a pilot concept to be launched at 2 – 5 schools in the network. The pilot design was centred around regular health checks, with a school nurse facilitating social prescription with both in-school and extra-school activity partners, helping to tackle the growing mental health crisis and obesity problem, and with the nurse also helping to get students access to teeth examinations and cleaning. The required resource and estimated cost of the pilot were developed, and a potential programme evaluation partner was found. The pilot was designed with sustainability and scalability in mind, with the longer-term goal of being able to evidence the value of early intervention and expanding the pilot across the entire Ark school network.
Figure 1: 50% of Ark students live in the most deprived 20% of areas in the UK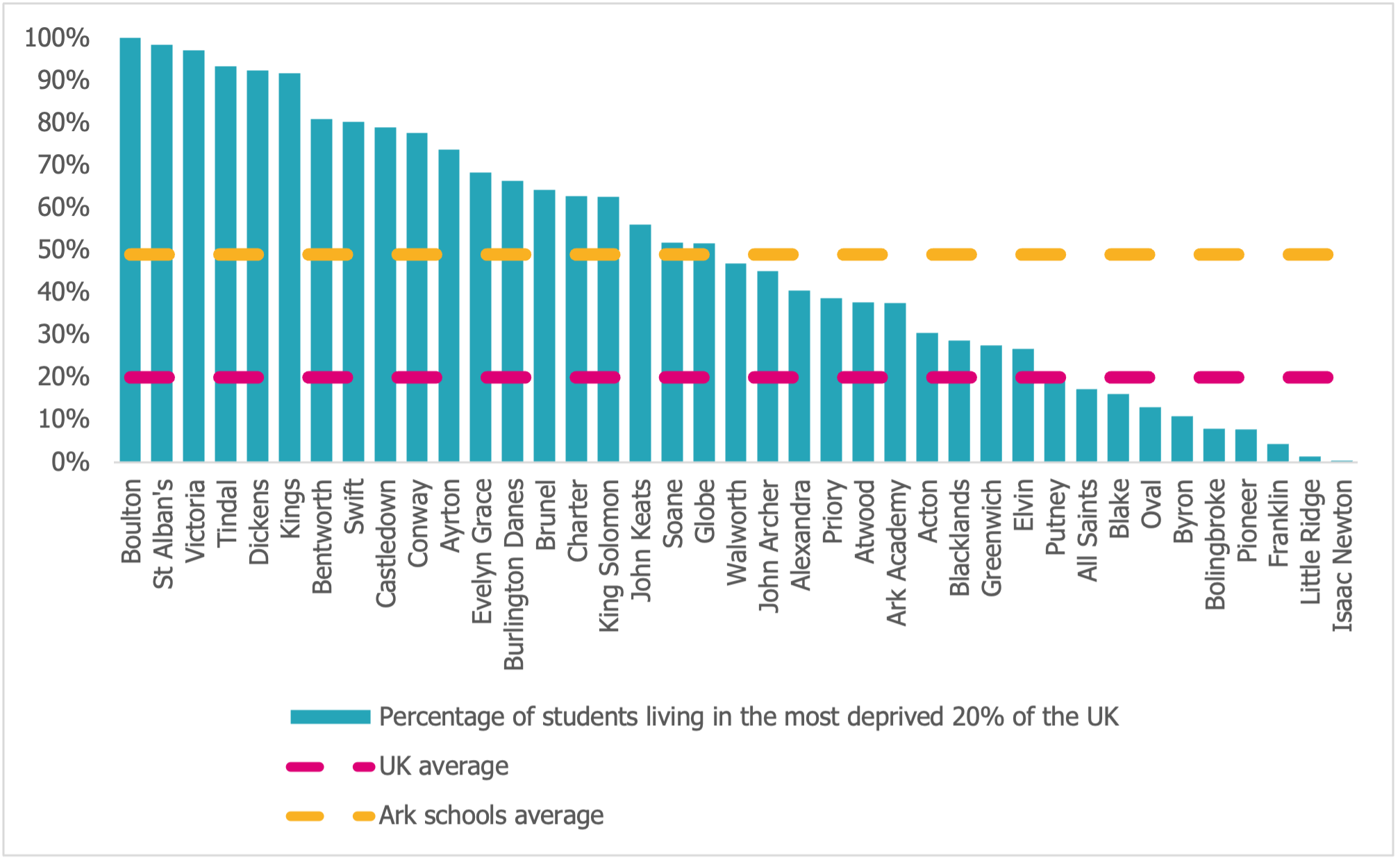 Client testimonial
Simon Radford – Venture Partner at Ark Ventures "We came to CF with a question: how could we effectively provide more health-related support to students within our schools? We ended a quick 4-week sprint with a compelling pilot idea that has caught the imagination of our management team, our school leaders, and the local NHS contexts within which our schools operate. To generate this idea CF were quickly able to help us articulate the problem, understand how it manifested itself in our varying school contexts, engaged effectively with our Trust and school leadership teams, and generously utilised their contact book of NHS relationships to help validate and iterate our idea. CF were personally lovely to work with – mission-driven, collaborative and knowledgeable- while seemingly the whole firm contributed something of their time and skills. As a result of our work we generated a pilot idea which has grown to an actionable plan, likely to launch early next year, and which we are confident can have both a real impact for our students but also a model for other schools and local health systems to learn from in turn."