The Insights & Collaboration Engine enables Integrated Care Boards (ICBs) to make better decisions using data. This tool unlocks insights through contextually aware benchmarking, amplifies the impact of your Integrated Care Partnership (ICP) strategy by setting system wide goals and accelerates improvement through automatic initiative evaluation.
Focus on what matters
Prioritise your limited resources for the greatest impact
Metrics aligned with national strategic objectives and policy, place-based health and wellbeing strategies and place-based JSNAs
Highlight and act on health inequalities
Compare performance of 90+ metrics across ICSs and for every place
Drill down to place and neighbourhood to identify local variation
Understand your ICSs population need and demographics
Relevant and comparable peers based on population characteristics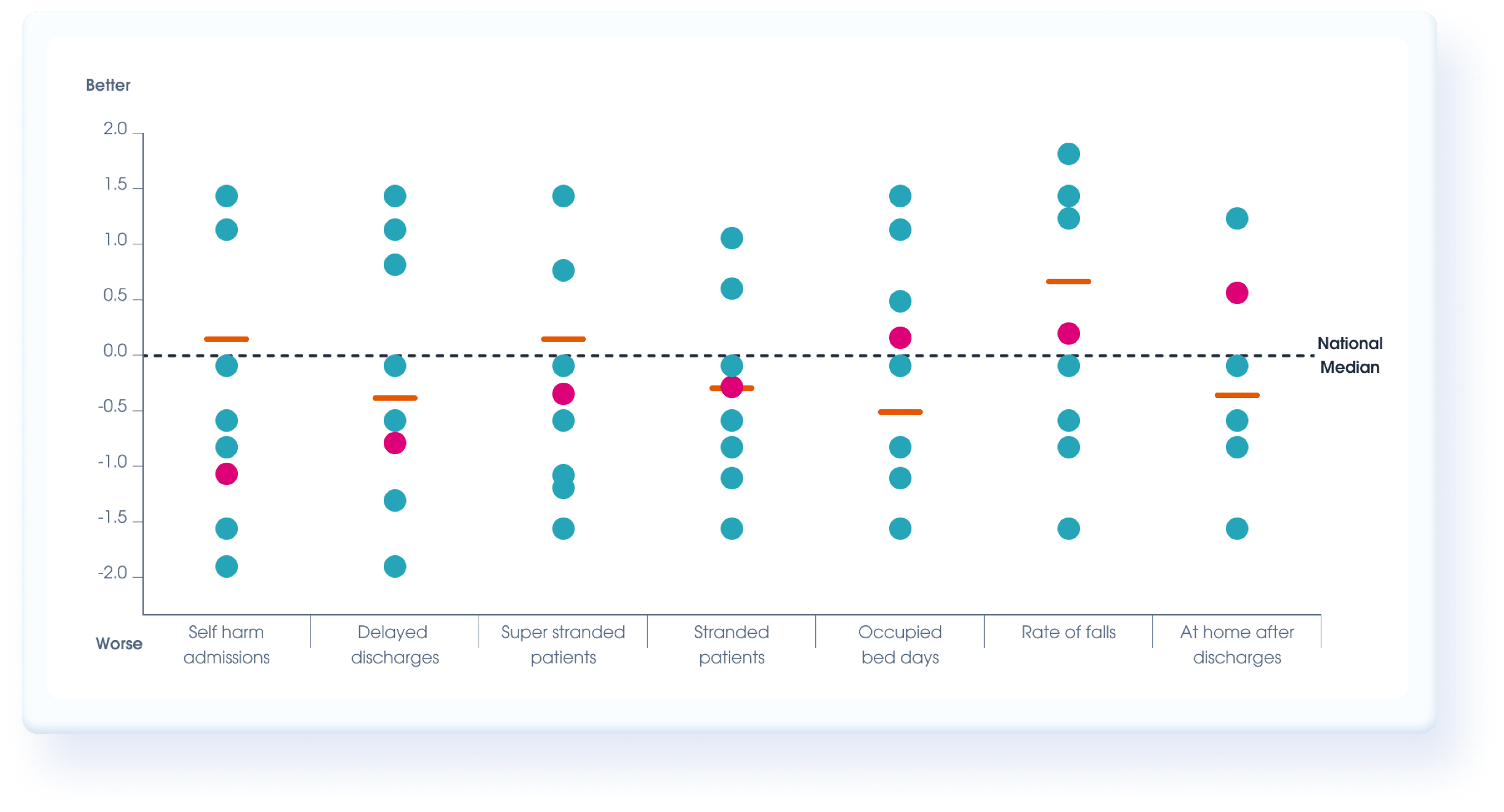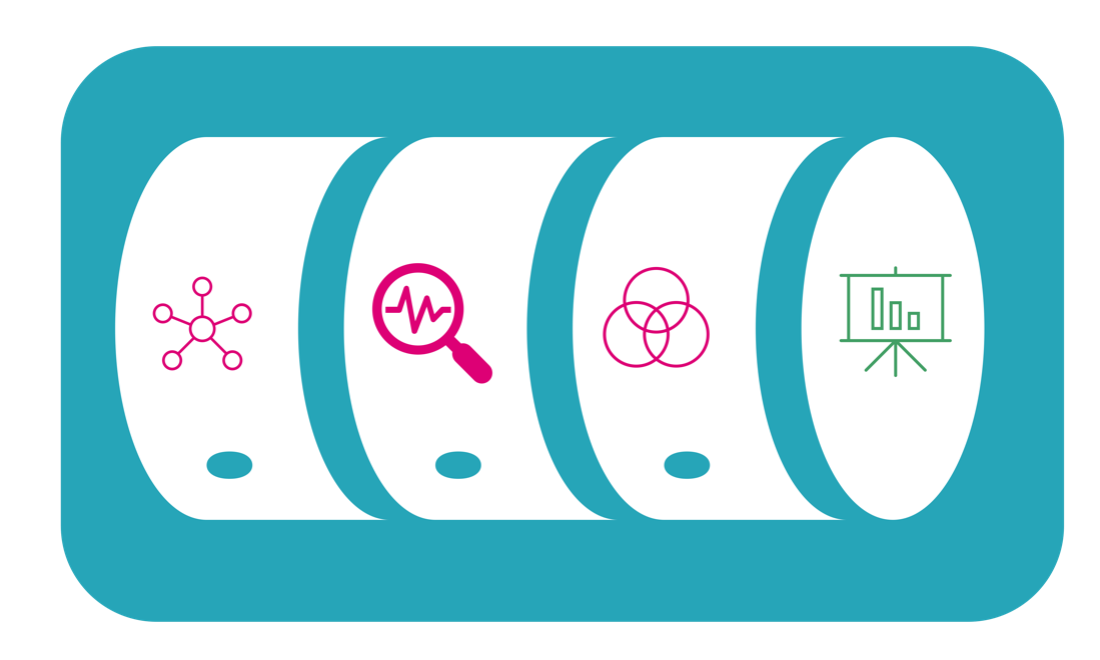 Latest data at your fingertips
Automated data pipeline pulling together more than 90 metrics at ICS, Place and Neighbourhood
Up to monthly updates to provide the latest data
Steer outcomes with the right actions
Set targeted goals for improving priority areas within the ICS and track them over time
Accelerate your improvement programmes by focusing on what works
Evaluate your initiatives' success using our innovative algorithms developed using CF expertise
"ICE has been well received by the ICB team, clear dashboards and easy to use. The CF team have been thoughtful and engaged, able to shift with the changing ambitions and ensure the product worked for us."
– Chief Medical Officer, NHS Sussex
The four core purposes of ICSs are to:
Improve outcomes for populations
Tackle inequalities in outcomes, experience and access
Enhance productivity and value for money
Help the NHS support broader social and economic development
ICE supports ICSs to collaborate to identify their top priorities, develop their five-year strategies and delivery plans, measure actual progress towards their goals in delivery and evaluate which programmes are working.
The platform addresses a unique gap for the newly formed ICSs and ICPs to work with wider stakeholders to come together to better meet the health needs of their population. ICE helps improve outcomes for populations by enabling the stakeholders to understand health indicators, access and outcomes to determine opportunities for improvement.
Health inequalities can also be identified and compared through analysis of metrics with the most local variation across Places and Neighbourhoods, and analysis of the gap between the 20% most deprived population (Core20) and the remaining 80% (non Core20).
One of the first asks of ICPs has been to develop their integrated care strategies, with ICBs responding by March with a joint forward plan. This requires identifying priorities, developing plans for improvement and then measuring progress to support mutual accountability for delivery.
These big ambitions carry both opportunities and challenges.
Firstly, all ICSs are at different stages of their development and each ICP faces different challenges based on their size, local circumstances and relationships. There is no "one-size-fits-all" approach. However there is the opportunity to learn from best practice across systems. Secondly, there is a tension between ambition and funding. The NHS faces unprecedented financial constraints so it is vital for ICSs to focus their resources where they can make the most impact, and reduce programmes that are not working. And thirdly, winter pressure on the urgent and emergency care pathway combined with the need to recover backlog recovery mean ICSs must balance their long-term strategies with immediate needs as they arise.
To develop a truly evidence based strategy, ICE can help ICSs with the 5 steps they will need to go through:
1.   Use available health and care data to assess the ICS position relative to peers and understand health inequalities
2.   Validate existing system-wide priorities for the ICS and local priorities for Places using local and national data
3.   Set realistic goals for each priority and understand the opportunity available to improve
4.   Develop an intervention plan to help the ICS meet these goals
5.   Monitor and evaluate the impact of the interventions to hold the ICSs to account
ICE has unique ability to track metrics aligned to strategic priorities over time, learn and take stock of progress already made and evaluate programmes that have been implemented for improvement of the strategic areas. This allows ICSs to assess whether their past interventions have been successful, and reallocate resources to support their latest strategic priorities.
Discover our offer
Product offer
| Features | ICE (free) | ICE (full) | ICE (custom) |
| --- | --- | --- | --- |
| Select peers | 3 ways | 5 ways | 5 ways |
| Understand population context | – | | |
| Benchmark metrics | 40 metrics | 90+ metrics | 90+ metrics |
| Prioritise metrics for improvement using internal variation and health inequality analysis | – | | |
| Create realistic goals | – | | |
| Track improvements over time | – | | |
| Evaluate performance of initiatives | – | | |
| Bespoke advanced features | – | – | |
Consultancy offer
ICE can be supplemented with a broader CF consultancy offer to help set aspirations, measure progress and support improvement.
CF has a track record of offering high-quality consultancy services to healthcare organisations. We can help you to embed ICE within your organisation and develop strategies that support more integrated approaches to delivering health and care.
We can dive deeper into your data to help you reduce disparities in health and care, and improve quality and performance of your services. We can do this by helping you evaluate in greater depth your existing programmes and the benefits or returns they have provided, sunset programmes that are not delivering sustainable benefits and develop and deliver new evidence-based programmes that can make a difference to your communities.
This platform is intended to help you develop and deliver benefits to your organisation. CF works together with clients to understand their specific requirements to help tailor the best approach. Please contact us at 

[email protected]

to discuss your needs further.