CF supported CodeYourFuture (CYF), a UK-based web-development training school for disadvantaged adults, to explore potential employment opportunities for their graduates within the NHS. This involved a review into available tech-related NHS roles, a gap analysis to assess eligibility and identify additional training requirements. We also conducted interviews with CYF and NHS stakeholders to understand the feasibility of opportunities in the NHS and the potential career pathways that CYF graduates could expect. The work resulted in a report outlining the technical roles most suited to CYF candidates and a set of potential opportunities for CYF to pursue with NHS partners.
Context
CodeYourFuture (CYF) is a non-profit organisation based predominantly in the UK which trains refugees and individuals from disadvantaged backgrounds both in full-stack web development and in vital soft skills, then supporting them to find permanent roles once they graduate. CYF are a medium-sized charity with 12 substantive staff and approximately 30 part-time volunteers.  CYF is well-established, with offices in the West Midlands, London, North West and Scotland, as well as Rome and Cape Town.
After years of successfully placing their graduates in jobs predominantly within the tech industry, CF approached CYF with a proposition to explore the potential for roles within the healthcare industry, with a focus on the NHS as one of the biggest employers in the UK.
With this in mind, CF conducted a review assessing the NHS tech jobs market and exploring tangible opportunities for CYF graduates within this industry.
Our approach
Our approach centred around a short discovery phase and gap analysis, followed by strategic positioning to outline feasible opportunities likely to provide the most benefit for CYF.
Discovery
A series of activities were undertaken to understand the availability of NHS jobs for CYF graduates and explore possible working arrangements between CYF and NHS employers.
NHS jobs assessment – a structured search was undertaken on NHS Jobs, the main hiring platform for the NHS. An approach was agreed with the client including a list of search terms focused around common tech-related job titles, a set number of results to analyse and a list of fields to collate.
Desktop research – a series of materials were produced to summarise additional relevant information for this review. This included an overview of the CYF graduate programme outlining course content and additional skills, NHS staff benefits, NHS graduate programme, NHS pay banding structure and NHS security clearance requirements.
Stakeholder interviews – we conducted interviews with volunteers and employees at CYF, as well as a handful of NHS stakeholders across a range of relevant fields such as HR, recruitment and analytics. The interviews allowed us to test outputs from the discovery phase, better understand if any similar initiatives had been arranged before and explore how a partnership between CYF and NHS might work.
CYF Survey – we issued a survey to trainees and graduates to understand previous experience and qualifications, as well as gauge volume of interest in tech roles in the healthcare industry.
Gap analysis
Outputs of the discovery phase were collated and a gap analysis performed to compare requirements of tech-related NHS jobs to the skills and qualifications of CYF graduates. Outputs were summarised on a colour-coded matrix which was tested and iterated with the client to ensure it aligned closely to their interpretation. This helped to identify any significant gaps for the NHS job groups outlined, and shortlist jobs most relevant to CYF graduates, as a focus if choosing to pursue further opportunities.
Strategic positioning
Outputs from the gap analysis and interviews were used to develop a set of potential opportunities for CYF moving forward. A final workshop was held with CYF volunteers and employees to test outputs from the discovery phase and gap analysis, and discuss the suggested opportunities for relationships between CYF and NHS partners in the future. Attendees shared views on the opportunities developed, outlined additional ideas based on the discovery phase outputs and prioritised a set of next steps to take forward.
Summary of our approach: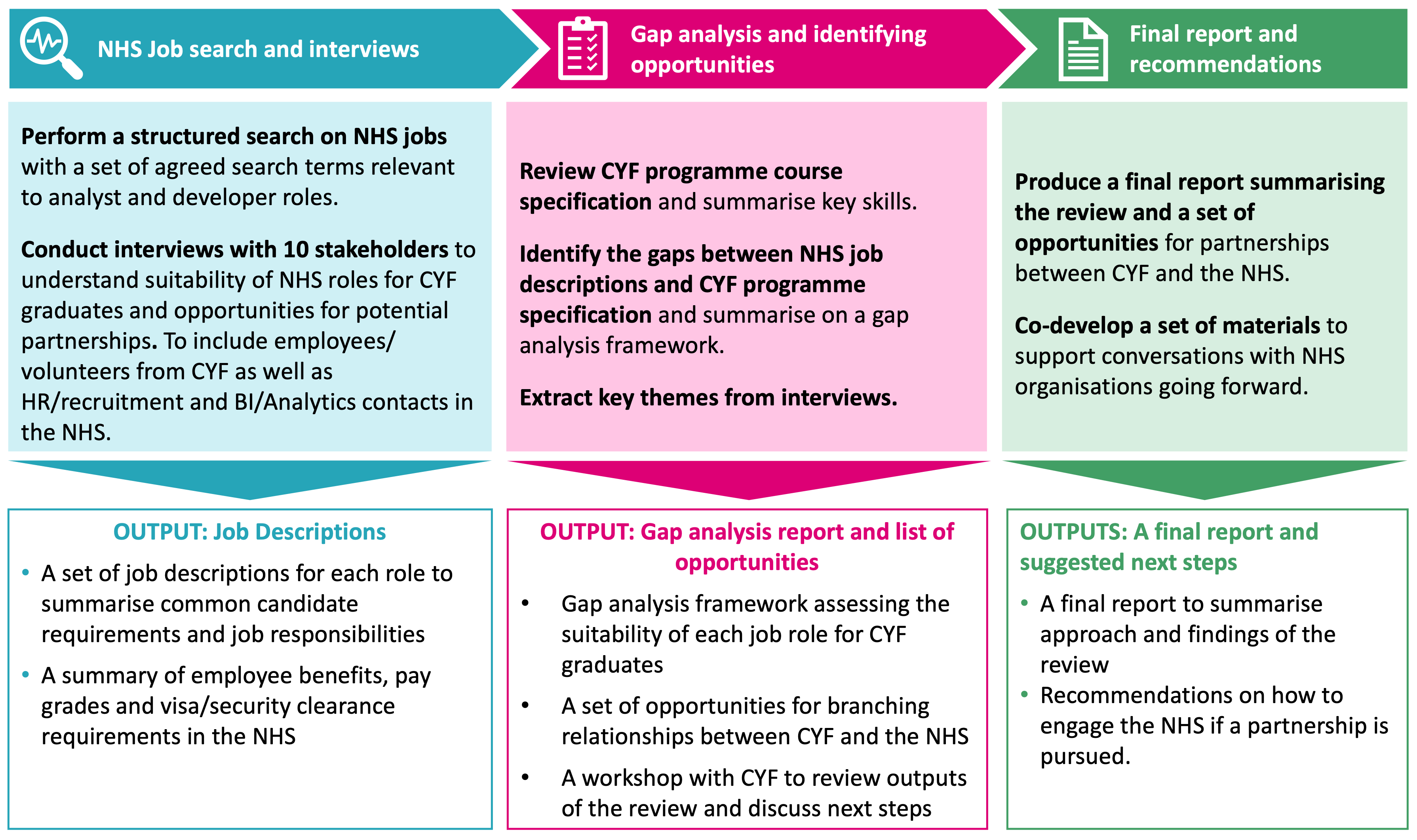 Outcomes
Our work helped to produce a shortlist of NHS job profiles considered most relevant to CYF graduates based on the current curriculum, allowing CYF to identify the key gaps that would need to be addressed before considering candidates for NHS jobs in future. A set of clear opportunities were formed, including a steer on what were 'quick wins' for CYF to focus on in the short term, considering their limited resource as an organisation, and a set of longer term goals. CYF were provided with a full report of the findings of the review which included a list of NHS contacts interested in exploring further conversations to help facilitate next steps.
Client testimonial
Barnaby Dathan, Head of Employability, CodeYourFuture –
"Throughout the project the team has been a delight to work with. Everyone we met was genuinely enthusiastic about the project and made this exploration both insightful and enjoyable.
From the first call it was clear that the team were really looking to make an impact and were highly receptive to our needs and feedback. They recognised our challenges and were very responsive to the limitations of our team. Throughout the project they showed a strong understanding of our problem area and kept the capabilities of the team/organisation in mind throughout. The structure and demands of the project fitted well with our small team and made it incredibly easy to work with.
The quality of the report and the knowledge we gained from the project is fantastic. We gained real insight into a new area for us, and the Carnall Farrar team clearly demonstrated to us the opportunities we can take advantage of. The workshops and information sessions were really helpful and created real, tangible ways that we could expand our organisation and support our graduates.
Throughout the phases of the project the team was mindful of any feedback we had and managed to blend their expertise with our experience seamlessly. The approach was thorough and effective and has exposed the organisation to a new and effective way of exploring possibilities as well creating new opportunities for our graduates. The benefits of these opportunities were clearly identified, and this has made it significantly easier for us to understand the cost/risk balance for the organisation to explore these opportunities. The further conversations created with the NHS for CYF have high potential and we're hopeful they will produce real benefits for our graduates.
Overall, working with Carnall Farrar was an enjoyable and insightful process. We were impressed with your understanding of our challenges and response to our limitations in capacity. Understanding your process and approach will have a significant impact in how we explore new possibilities in the future and the potential for the contacts you've created to impact the lives of our graduates is really promising. I would be delighted to work with the team again!"
Please click here to read more about CodeYourFuture and the excellent work they do: https://codeyourfuture.io/
To find out more about our pro-bono partnerships please contact [email protected] or [email protected]