Healthcare Investment Advisory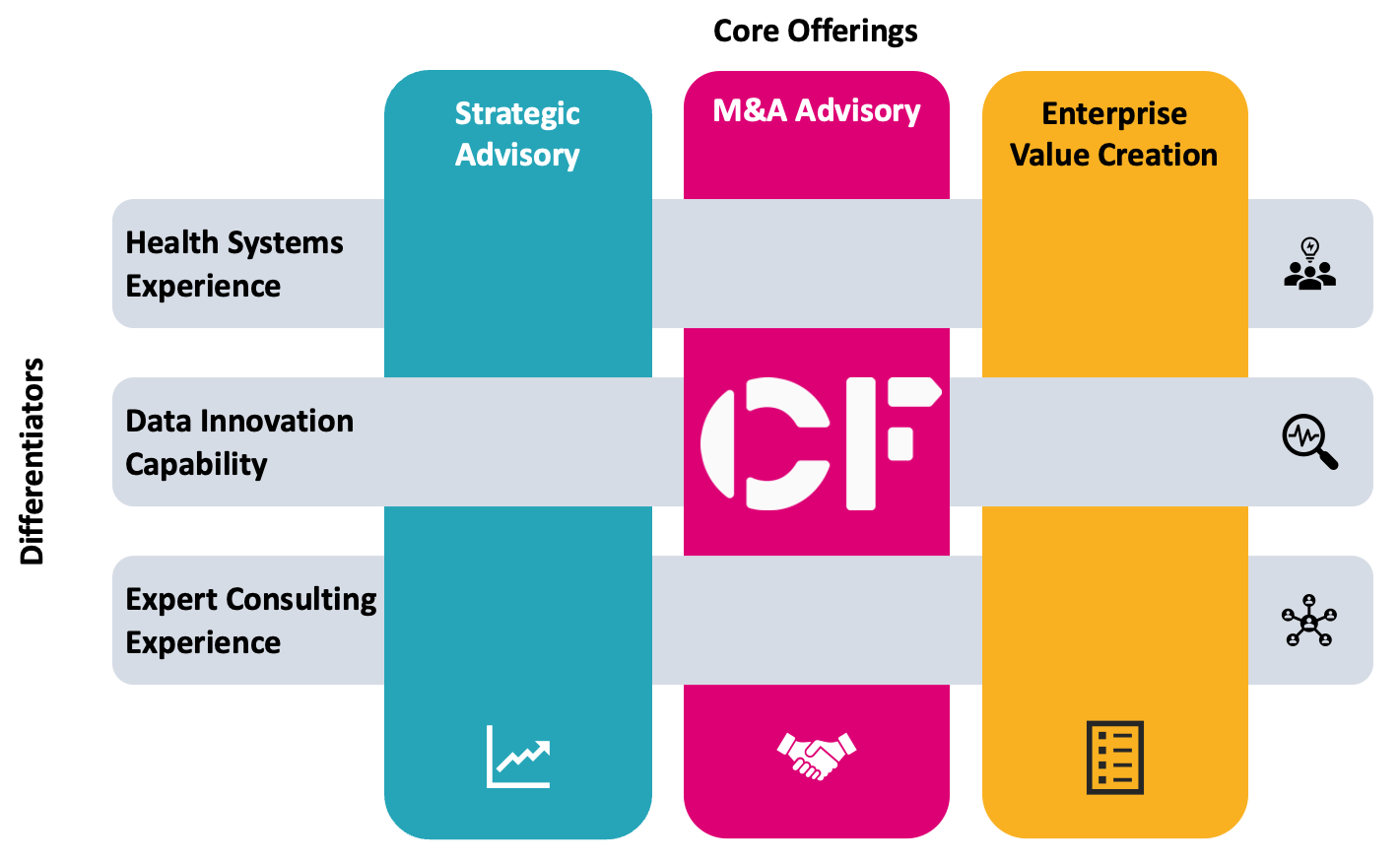 Every healthcare M&A deal is unique, presenting its own set of challenges and opportunities. Whether you're engaged in an acquisition, divestiture, forming a strategic alliance, or seeking to develop your corporate strategy, it's crucial to ensure that you're optimising the returns on your investment and driving deal value.
CF are experts in healthcare, with over 700 projects completed across NHS, Life Sciences and Health Investing in the last 10 years, and over 70 projects completed in 2023 alone. CF partners with corporate and private equity clients on buy-side and sell-side transactions to provide a highly specialist range of healthcare M&A services, including strategic, operational, and commercial due diligence as well as growth strategy consulting.
We are the healthcare strategic advisor of choice and are routinely hired by NHS executives, having worked with over 70% of NHS ICS' and delivered work in over half the Trusts in the country. This means we have unparalleled access to NHS Chairs, CEOs and Boards.
Our award-winning data analytics capabilities and data science teams are equipped to offer a dynamic blend of expertise that encompasses commercial acumen, operational efficiency, and financial rigor.
Our highly experienced healthcare M&A team is committed to guiding you through every stage of your transaction, ensuring that you are well-informed and well-prepared as we navigate the intricacies of your deal.
What sets CF apart is our expertise in healthcare across healthcare strategy, finance, commercial, and operational aspects with data-driven insights. This fusion enables us to help you generate value at every juncture of the deal lifecycle. Our core healthcare M&A and strategy services extend to the following areas:
Strategic Advisory
Growth Strategy
Whether you're planning to grow organically or by acquisition, diversify into new markets or expand your current service offering, CF can partner with you to bring expert insight and guidance to help you set competitive strategy and achieve your growth ambition sustainably.
We can help stakeholders understand the implications of growth on your wider organisation and partner with business units to redesign organisational infrastructure to deliver your value proposition.
Corporate Strategy Development
CF works with boards in both the public and private healthcare market to refresh corporate and business unit strategy and develop a strategic roadmap to guide organisational actions and achieve objectives.
As experts in healthcare, we partner with our clients to help navigate the uncertainty of the healthcare landscape, address business challenges and the evolving threat of competitors.
Unlike other management consultancies, CF does not rely on external expert networks. This enables us to price competitively for our services and move at pace to meet the nature of our client's needs.
M&A Advisory
Strategic & Commercial Due Diligence
We help you holistically assess the strategic implications and commercial attractiveness of your transaction, ensuring that your long-term goals align with your current move.
Our approach to strategic and commercial due diligence involves anticipating potential challenges that might impact your transaction adversely. We can help you assess whether the transaction is the right choice and explore how realistic the value creation potential is.
We can evaluate the commercial attractiveness of a target company, or strategic move, through market entry assessment, analysing evolving market dynamics and competitive positioning.
By assessing how the targets competitive positioning is likely to change over time, we can help you understand the implications this could have on your strategy, and what needs to be true to realise the full target value potential.
Throughout the due diligence process, we actively work to reveal the level of integration risk posed by the target and make a robust examination of whether the deal value can be realised by the existing management team, and the reality of the planned time frame.
We offer bespoke due diligence engagements that fit the needs of your business and the nature of the target. Examples of our strategic and commercial due diligence services include:
Target screening
Market sizing and new entry assessment
Market dynamics and competitor landscape mapping (peer, regulator, supplier, customer)
Commercial attractiveness assessment
Business plan review
Commercial integration considerations
Operational Due Diligence
Operational due diligence requires true subject matter expertise, knowledge and experience to be effective. As trusted healthcare experts, our due diligence delves deep into the inner workings of your target company, revealing underlying performance and opportunities for optimisation and growth.
The extensive first-hand healthcare experience our team has enables us to provide expert analysis, supported by the latest data innovation capabilities. We can help you gain a deep understanding of a target's business risks, underlying performance, and operational improvement opportunities, as well as advising whether the transaction will enhance your existing operational infrastructure.
Our data innovation team can demonstrate clearly how operational improvements can translate into measurable outcomes which can inform your investment thesis.
We offer bespoke due diligence engagements that fit the needs of your business and the nature of the target. Examples of our strategic and commercial due diligence services include:
Review of CQC report and implications
Data-driven operational effectiveness report
Operating model review
Operational integration considerations
Enterprise Value Creation
With access to more healthcare data than any other UK consultancy, CF is trusted and experienced to analyse and report on critical business data and unlock insights that were previously unobtainable.
We partner with clients to bring greater transparency to your business by turning complex data into digestible business intelligence that provides meaningful insights and helps to create value.
Our highly experienced team of data scientists and analysts can help you remove the guesswork from operational productivity and understand full value creation potential. CF's trusted industry relationships can support clients in developing NHS outreach and business development.
We can work with you to develop and implement a rigorous value creation plan and prioritise internal investment decisions for maximum ROI. Our expert health systems consulting team can partner with you to analyse and redesign services for improved patient outcomes and enterprise value.
Our data teams generate award-winning insights through advanced analytical techniques, supporting through all stages of the innovation life cycle, from accelerating uptake and adoption and cost optimisation. We can generate strategic insights, assess market size through due diligence, or carry out robust financial modelling to support financial sustainability and business planning.